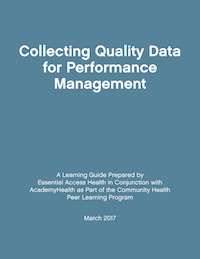 Collecting Quality Data for Performance Management
This learning guide was prepared by Essential Access Health in conjunction with AcademyHealth as part of the Community Health Peer Learning Program.
Download Publication
This example-filled learning guide, part of a series developed by the Community Health Peer Learning Program's subject matter expert communities, is intended to support population health performance management for those using electronic health data. Prepared by Essential Access Health, it offers recommendations for choosing measures, collecting accurate and comprehensive data, and assessing program performance for successful population health management and improvement.
Supporting materials to the full learning guide include:
The below webinar recording, which features experts from Essential Access Health providing an overview of the guide and outlining key steps in collecting quality data for performance management