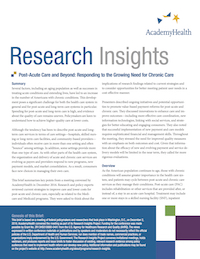 Post-Acute Care and Beyond: Responding to the Growing Need for Chronic Care
This report summarizes an invitational meeting of federal policymakers and researchers in December 2016.
Download Publication
This report is part of AcademyHealth's Research Insights Project aimed at fostering discussion of existing, relevant research evidence among policy audiences who need it to implement health reform and develop new policy. 
The report highlights current strategies to improve care and lower costs for post-acute and chronic care, including new payment models and other initiatives designed to coordinate and integrate these services more effectively. It considers the policy implications of these strategies and highlights the overlap between post-acute and chronic care as well as the challenges to balancing the priorities of the two populations. The report concludes with an overview of the opportunities for policy and research to better meet patient needs in a cost-effective manner.
The Research Insights Project is supported by the Agency for Healthcare Research and Quality.