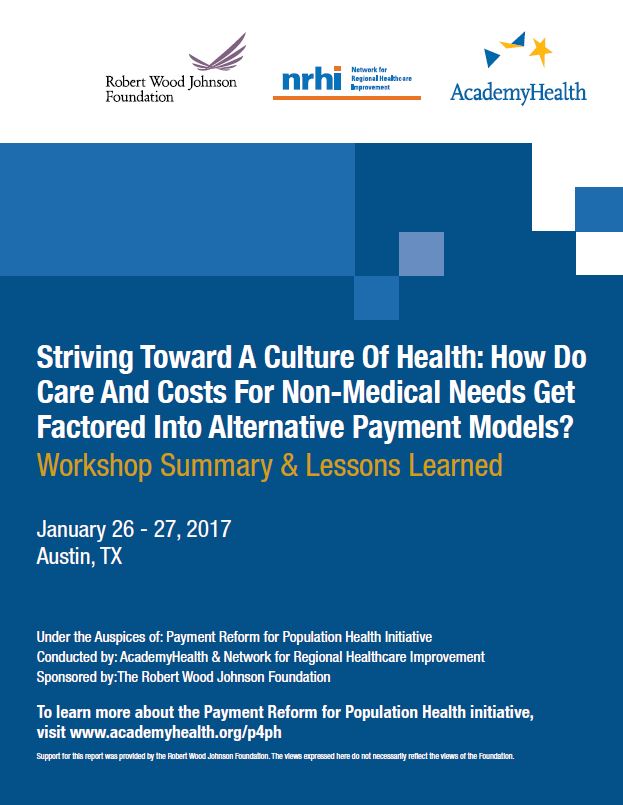 Striving Toward A Culture Of Health: How Do Care And Costs For Non-Medical Needs Get Factored Into Alternative Payment Models?
In January 2017, AcademyHealth and the Network for Regional Healthcare Improvement convened five multi-sector teams led by regional health improvement collaboratives (RHICs) and content experts to inform next steps in the teams' specific community-based collaborative projects.
Download Publication
In a time of significant health care transformation, many health insurers and health care providers are moving toward payment models based on the quality of care delivered in an effort to attain the Triple Aim of better care, smarter spending, and healthier people. Right now, most of these value-based payment models focus on clinical services and, more specifically, the needs and outcomes of a health care provider's patient panel, a health plan's enrollees, or the purchaser's employee subscribers. Still other payment models focus on a targeted sub-population of individuals with a defined chronic clinical condition, such as patients with diabetes or depression.
As such, payment and financing models are not yet adequately supporting community-wide, geographically-based, population health. The incentives in these models do not yet reward health care providers for creating healthy communities, nor do they incentivize other sectors—e,g., transportation, housing, education—contributing to population health improvements.
This report focuses on four key topic areas and the related barriers that potentially influence the conditions and collaborations necessary to support non-clinical community-wide population health services.
The four topic areas are further detailed in the below profiles: