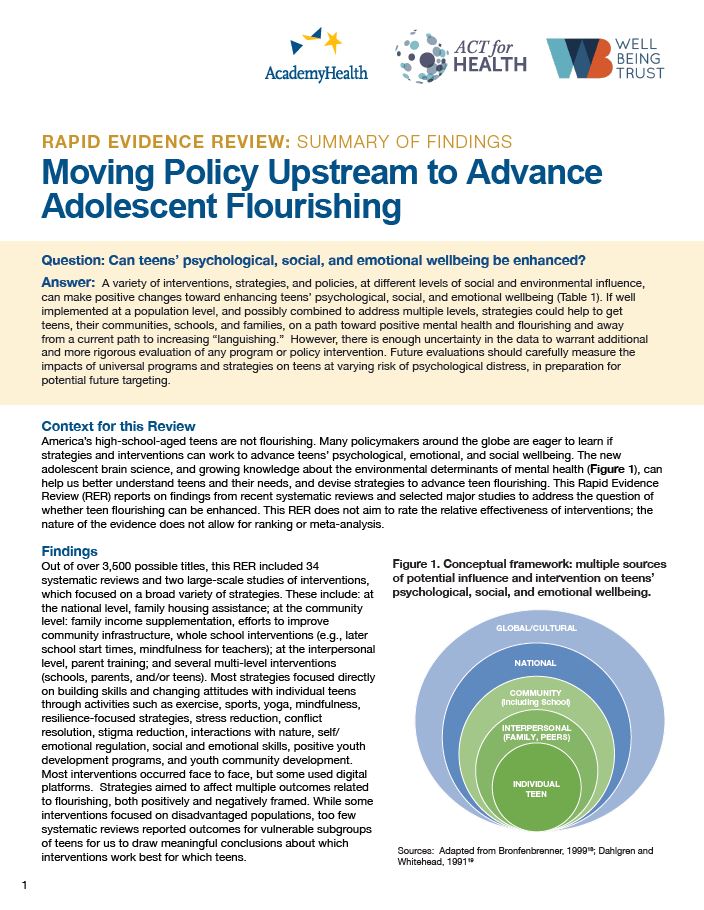 Moving Policy Upstream to Advance Adolescent Flourishing
This Rapid Evidence Review reports on findings from recent systematic reviews and selected major studies to address the question of whether teen flourishing can be enhanced.
Download Publication
America's high-school-aged teens are not flourishing. Many policymakers around the globe are eager to learn if strategies and interventions can work to advance teens' psychological, emotional, and social wellbeing. This rapid evidence review, funded by Well Being Trust and conducted in partnership with  Adolescents and Children Together for Health (ACT for Health), finds that teen psychological, social, and emotional wellbeing levels can be improved through intervention. At a population level, these improvements can be meaningful. However, not every study finds improvement, the quality of the research is uneven, and many risks have not been addressed. Accordingly, it will be important for any implementation effort to be accompanied by rigorous evaluation.
Appendices for the review including key definitions, methods, narrative summary of findings, findings by outcome, evidence tables, and a list of excluded reviews can be found here.
This project supports Well Being Trust's development of an overarching policy agenda by focusing specifically on policy priorities to enhance adolescent psychological, social, and emotional health and wellbeing. This rapid evidence review is an interim report and serves as one foundation for a prioritized and actionable set of evidence-informed policy recommendations. The project is guided by a National Expert Panel including the following members: Johanna Bergan, Christina Bethell, Anne Collier, Angela Diaz, Nadine Gracia, Vicki Harrison, Corey Keyes, Matt Soeth, Shawn Sprecker, and Qi Wang.