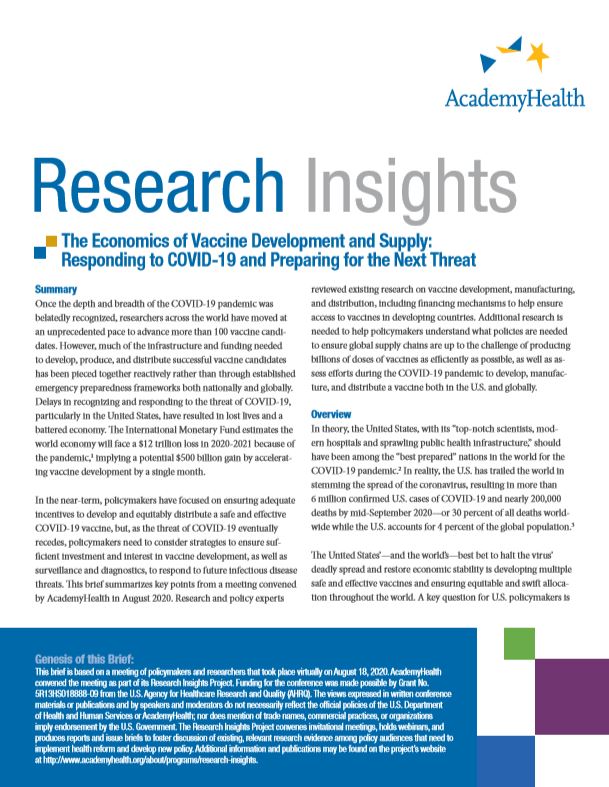 The Economics of Vaccine Development and Supply: Responding to COVID-19 and Preparing for the Next Threat
This issue brief is a synthesis of the presentations and discussions at an August 2020 virtual meeting, along with relevant background from the gray and peer-reviewed literature. The discussion was off the record, so comments are paraphrased and without attribution. The brief is part of the Agency for Healthcare Research and Quality-funded project Research Insights, managed by AcademyHealth.
Download Publication
Once the depth and breadth of the COVID-19 pandemic was belatedly recognized, researchers across the world have moved at an unprecedented pace to advance more than 100 vaccine candidates. However, much of the infrastructure and funding needed to develop, produce, and distribute successful vaccine candidates has been pieced together reactively rather than through established emergency preparedness frameworks both nationally and globally.
In the near-term, policymakers have focused on ensuring adequate incentives to develop and equitably distribute a safe and effective COVID-19 vaccine, but, as the threat of COVID-19 eventually recedes, policymakers need to consider strategies to ensure sufficient investment and interest in vaccine development, as well as surveillance and diagnostics, to respond to future infectious disease threats.
In August 2020, AcademyHealth virtually convened research and policy experts to reflect on recent experience with COVID-19 and review existing research on vaccine development, manufacturing, and distribution, including financing mechanisms to help ensure access to vaccines in developing countries and policies to promote equity. Key takeaways from the discussion include:
While the United States had stepped up efforts to prepare for public health emergencies, especially global flu pandemics, and had extensive preparedness infrastructure in place for almost 15 years, the field is characterized by repeated cycles of panic and neglect.

To maintain a posture of readiness for the next threat, from a U.S. perspective, the structures are in place, but funding is needed now and well into future, both to start and then stay the course through the development of vaccines.

Once effective COVID-19 vaccines are available, the global health ideal is to distribute vaccines by countries' health needs, independent of their wealth, but in practice allocation is much trickier in a global collaboration that brings together high-, middle- and low-income countries, where to some degree wealthier countries subsidize poorer countries.

Vaccines serve a dual purpose-- they save lives and they interrupt disease transmission

 so the first question in designing policies to promote equitable access is to identify the objective.

Differences in people's demand for a COVID-19 vaccine, underscored by historical legacies of mistrust of the health care system among Black Americans, also can impact equity.
Funding for this virtual meeting was made possible by Grant No. 5R13HS018888-09 from the U.S. Agency for Healthcare Research and Quality (AHRQ). The views expressed in written conference materials or publications and by speakers and moderators do not necessarily reflect the official policies of the U.S. Department of Health and Human Services; nor does mention of trade names, commercial practices, or organizations imply endorsement by the U.S. Government. The Research Insights Project convenes invitational meetings, holds webinars, and produces reports and issue briefs to foster discussion of existing, relevant research evidence among policy audiences that need to implement health reform and develop new policy.