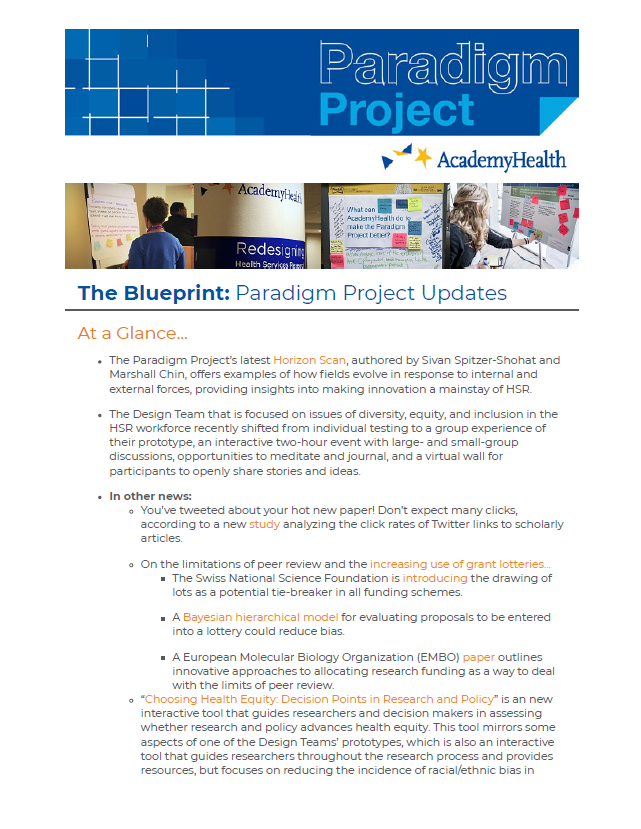 The Blueprint: Paradigm Project Updates
This update from the Paradigm Project highlights a recently published issue brief, "Unbounding a Discipline to Bind Innovative Change: A New Paradigm for Health Services Research" by Sivan Spitzer-Shohat and Marshall Chin, and describes the latest activity of the Design Team focused on diversity, equity, and inclusion in the HSR workforce.
Download Publication
The Paradigm Project's latest Horizon Scan, authored by Sivan Spitzer-Shohat and Marshall Chin, can help leaders in the field of health services research to make sense of the forces of change churning in and around the field. The goal is to spur self-examination within the HSR field by identifying, assessing, and embracing internal and external forces that could change the way HSR is conducted. The authors look to three other academic disciplines for examples of change that could help HSR leaders think about innovation in our field. A plain language summary of the paper is available here.
Among the expert convenings and new issue briefs, the five active Design Teams continue to prepare for the larger-scale phase of testing. The Design Team that is focused on issues of diversity, equity, and inclusion in the HSR workforce recently shifted from individual testing to a group experience of their prototype, an interactive two-hour event with large- and small-group discussions, opportunities to meditate and journal, and a virtual wall for participants to openly share stories and ideas. The Design Team is currently revising the program based on participant feedback and preparing for their next event, which is scheduled for late April with approximately 30 participants. Would you be interested in attending or helping us spread the word about a future event? Email danielle.decosta@academyhealth.org.
Additional information can be found at AcademyHealth.org/ParadigmProject.