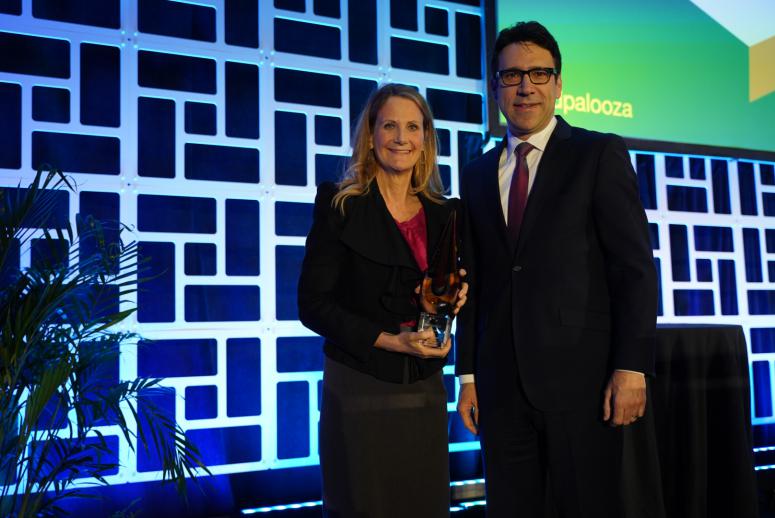 Today AcademyHealth announced Deven McGraw as the winner of the Health Data Impact award for her leadership on patient rights regarding personal health data. Replacing the previous Health Data Liberator Award, the Health Data Impact Award recognizes extraordinary contributions and leadership by individuals, or teams of individuals, who have taken data and transformed it for the greater good and public use.
"Deven's career-spanning efforts have held the health system to account when it comes to patient access to their own data," said Dr. Lisa Simpson, president and CEO of AcademyHealth. "Her leadership at HHS paved the way for patients to move off the sidelines and into an active and informed role fueled by their own expertise and data. AcademyHealth is committed to recognizing and supporting those who go above and beyond in making health care better and putting patients first."
McGraw, who was the Deputy Director for Health Information Privacy at the Office for Civil Rights of the U.S. Department of Health and Human Services, issued comprehensive guidance on the patient's right of access under HIPAA (or the Health Insurance Portability and Accountability Act of 1996). She also worked with the Office of the National Coordinator for Health IT to develop consumer friendly materials, including brochures and videos available online today.
Currently Chief Regulatory Officer at Ciitizen, a tech start up focused on developing tools to help patients organize and share their health data, she led the creation of the Patient Record Scorecard, the first and only record that rates health care providers by name on how well they comply with HIPAA's right of access. McGraw also led a survey of 3,000 health care institutions revealing that nearly 60 percent of health care providers do not fully comply with patients' HIPAA right of access.
"We know what gets measured and publicly reported gets improved," said McGraw. "No one was doing that when it came to patients' right to access their data, so we developed the Scorecard to raise the bar on compliance, set the gold standard, and put patients first." 
This commitment to patient rights builds on a long career that includes working as a CBS producer working on often gut-wrenching personal health stories, her efforts on electronic health record policy at the National Partnership for Women and Families, and her leadership of the Health Privacy Project at the Center for Democracy and Technology.
McGraw received her award at the 11th Annual Health Datapalooza conference in Washington, D.C.
Blog comments are restricted to AcademyHealth members only. To add comments, please sign-in.