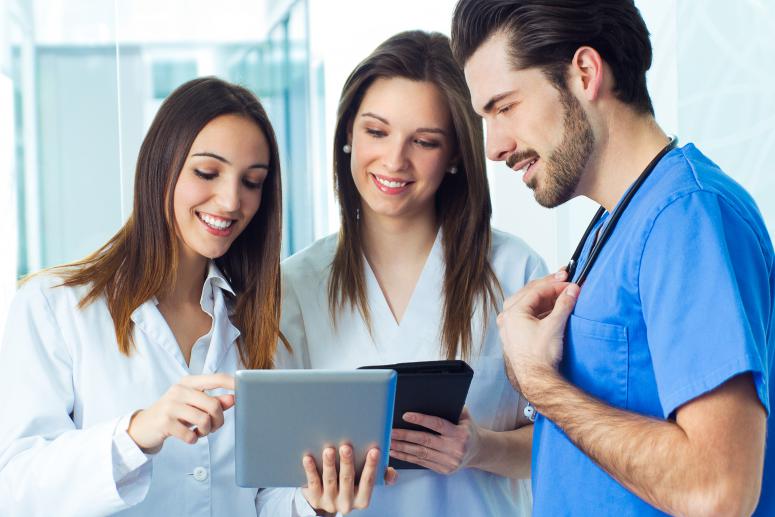 The nation has long been grappling with a shortage of well-trained clinicians to provide high quality, effective, and efficient care. Recently, in an AcademyHealth blog post, AcademyHealth members from the Interdisciplinary Research Group on Nursing Issues called for research on the cost, quality, and health care access outcomes of amended scope-of-practice policies for Nurse Practitioners (NPs) in light of the COVID-19 pandemic. These policies play a key role in ensuring that patients receive important and much-needed care in this urgent situation; allowing each clinician to work at a level of knowledge, skill, and competency enables efficient and appropriate care. Unfortunately, this solution can only partially address an underlying deficit in our health care system: the need for a larger physician workforce working to address the most complex needs of patients. To fully address the issue, we need to consider this long-standing physician deficit, prepare for challenges ahead related to the pandemic, and plan for the future with policies that go beyond licensing issues in order to best address preventable problems.
A Long-Standing Physician Deficit
Despite compelling evidence that the United States was unprepared for an emerging pandemic, governmental funding decisions have erred on the side of limited support for physician training in recent years. The AAMC regularly issues a comprehensive report on the status of the physician workforce. This report has consistently shown that the U.S. has far too few physicians to meet the projected health care demands of a growing, aging population. In a best-case scenario, the AAMC estimates a shortage of up to approximately 50,000 physicians this year alone – and that shortage rises to 139,000 physicians by 2033. Unfortunately, we are currently living through the worst-case scenario: the COVID-19 pandemic has demonstrated the chaos and overwhelming systemic challenges that solely planning for the best-case can cause.
During the COVID-19 pandemic, states that did not previously allow NPs to evaluate, diagnose, and manage the treatment of patients, have rightly expanded their roles. However, even with these expansions, our workforce falls short of meeting current needs, particularly those that this virus poses. In the 2018-2019 academic year, fewer than 15,000 physicians were in training for the specialties in highest demand for COVID-19 care.*
Challenges Ahead
The COVID-19 pandemic has presented a dual concern for many Americans as it both threatens their health and their financial stability. Amid the continued fear of many to seek regular health care during a pandemic and the national unemployment rate soaring, we can expect a larger wave of complex condition management in the coming months. Immunizations and regular screening for conditions such as cancer have plummeted due to the shelter-in-place orders in many states over the past few months. However, as these orders are lifted, studies suggest that testing might not resume, as screening rates decrease in a recession due to losses of income and health insurance. This means that patients with cancer and other illnesses that are typically caught by early screenings seek out care only once they are very sick and  presenting with more complex and later stage conditions. These patients will require treatment from specialized physicians and interdisciplinary teams as well as preventive care, further stretching this already-thin workforce. Resumption of many elective surgeries and other care paused recently also pose similar concerns for the future staffing of our hospitals and significant burden to come once the COVID-19 crisis passes.
Planning for the Future
Although a few bright spots, such as the eagerness of newly-minted residents stepping into difficult roles as well as the expanded roles of NPs across the country, have emerged in this pandemic, the nation's health care workforce needs significantly more support. Flexibility in telemedicine management and reimbursement for remote services has increased convenience for many types of care and it is unclear how much face-to-face care will be changed. It is important to note that telemedicine and remote care generally spares the patient time and effort, but clinicians must still diagnose and treat virtually and not all services can be performed remotely.
Due to insufficient preparation at a national level, our hospitals currently struggle with staff shortages and burnout that temporary procedural and policy changes can help with, but more needs to be done in the long run. As we work towards eliminating barriers imposed by finances, geography, and culture so that those currently unable to access care are able to, we must remember that this will require a number of physicians even greater than current shortage estimates to support necessary equitable care. Unfortunately, policy changes are, in many ways, years too late; it takes multiple years to complete training for clinical roles and therefore it will be several more years until we see any changes in the size of our workforce.  
Despite that, today's changes do in fact offer a rich opportunity for health services researchers to evaluate the impact of regulatory, financial, and behavioral reforms for the future. This is also an opportunity for the U.S. to learn important lessons to support the health care workforce and prioritize health care funding from this pandemic.
Focusing solely on licensing is a red herring. The AAMC and much of the health professions education community is moving towards competency-based education and assessment. These competencies will be how care is evaluated (and potentially used to decide who is qualified to provide that care).  After all, a license is only a part of it—Grover's medical license says, "Physician and Surgeon"; although his license allows him to remove your appendix, you wouldn't want him to. It's time to rethink and reinvest in our health workforce.
* Emergency Medicine, Cardiovascular Disease, Pulmonary Disease, Infectious Disease, Surgical Critical Care, Critical Care Medicine, and Pulmonary Disease and Critical Care
The opinions expressed in this blog post are the authors' own and do not necessarily reflect the view of AcademyHealth. 
Blog comments are restricted to AcademyHealth members only. To add comments, please sign-in.