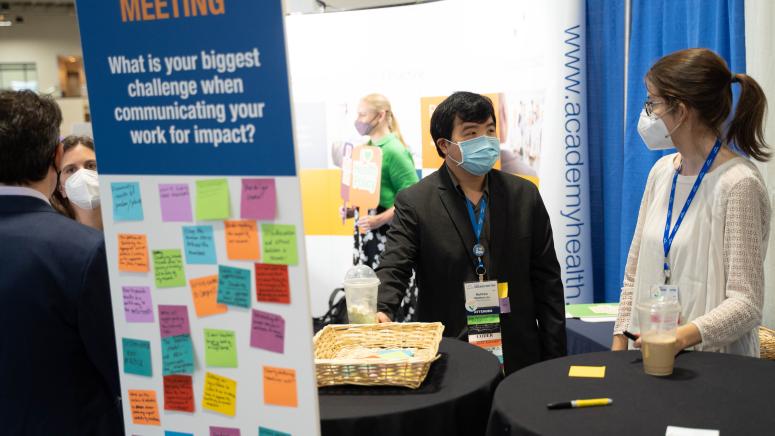 Recently, at the Annual Research Meeting (ARM), I met with several health services and health policy researchers in the AcademyHealth booth. The ever-popular photo booth section was consistently filled with beaming smiles of researchers holding up "I heart HSR!" and "I heart Health Data!" signs.
The key topic of conversation in the booth was prompted by a sign asking researchers "What is your biggest challenge when communicating research for impact?" The question was intentionally chosen as a conversation starter because our members pinpointed this specific issue as an ongoing challenge in a 2021 survey conducted by AcademyHealth. The challenge of communicating research for impact has been echoed at ARM over the years, including during this year's closing plenary. 
Communication Challenges Prevents Researchers from Changing the Lives of Veterans and their Families
During one meaningful conversation I had at ARM, a university professor and her team talked about the research they conducted and the life-changing data that could be used to improve the lives of veterans and their families. However, they struggled to get their data front of state legislators to make necessary policy changes. Unfortunately, when it came to the dissemination phase of conducting research, the team realized they needed assistance. To make the impact on their constituents' lives, the research team needed to:
have effective messaging points, which could tell the human stories behind the data

develop a plan to reach their key stakeholders in their community and their state legislators

design a messaging campaign to get the compelling data in front of state legislators and drive change.
An All Too Familiar Problem
This is common in the field. A lot of great research isn't reaching key stakeholders to generate the desired impact. The AcademyHealth booth at ARM gave us an opportunity to directly hear from health services researchers. The challenges ARM attendees wrote on Post-its and stuck on our sign could be grouped into the following key themes:
defining the target audience,

crafting effective messaging, and

reaching the audience.
Here's what they said:
Issue #1: Defining My Audience
"Being able to determine what's important to specific groups."

"Finding the right audience."
Issue #2: Effective Messaging
"It's not about the tables and charts. It's about finding the rich examples in the qualitative data & connecting the audience with the emotions."

"Telling the human stories behind the numbers."

"[Creating a] message the general population would understand."

"[Using] visualization and attract audience in seconds!"
Issue #3: Reaching My Audience
"Moving from development of implementation resources to actual implementation."

"I don't know how to get a hold of our state legislators."

"Ensuring findings reach stakeholders."
Learn How to Communicate Your Work for Impact
We've heard it loud and clear. Communicating research to make an impact is imperative. To overcome this issue, AcademyHealth developed and launched a Communicating for Impact Course. Researchers will learn how to:
increase the visibility and impact of their work

find and reach their target audiences

craft compelling messages to explain key findings through storytelling and visuals
The course also provides useful templates and resources, which removes the guesswork and makes it easy to tell the human stories behind the numbers and get your research in to the right hands to move your evidence into action.
Learn how to tell the rich stories underneath your data and enroll for the Communicating for Impact course today. Enrollment closes August 31 and is capped at 40 participants.
Blog comments are restricted to AcademyHealth members only. To add comments, please sign-in.