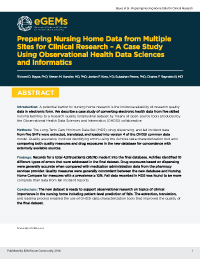 A Case Study Using Observational Health Data Sciences and Informatics.
Nursing home research is often obstructed by the limited amount of research-quality patient data present in electronic form. In this case study, Dr. Richard Boyce of the University of Pittsburgh and colleagues converted nursing home patients' health data regarding falls and fall-related injuries into electronic forms.
Download Publication
The authors used the open-source tool, Achilles, from the Observational Health Data Sciences and Informatics (OHDSI) collaborative in order to create a database for nursing home research using their converted data. Efforts building on this work could help researchers to compare the nursing home population with the average population to determine how care needs, cost, and quality may differ. Read the full paper here. 
eGEMs (Generating Evidence & Methods to improve patient outcomes) is a peer-reviewed, open access journal that seeks to accelerate research and quality improvement using electronic health data. The EDM Forum launched eGEMs in 2013, and the journal has since published more than 100 papers featuring cutting-edge projects from leaders in the field. eGEMs is led by an editorial board of experts from across the country and is a premier journal for approaches to redesigning the health system, including methods, interoperability, and governance. Visit the eGEMs website and follow us on Twitter to learn more about the journal, how to submit a manuscript, or to serve as a reviewer.
The EDM Forum is supported by the Agency for Healthcare Research and Quality (AHRQ), Grant 1U18HS022789-01.