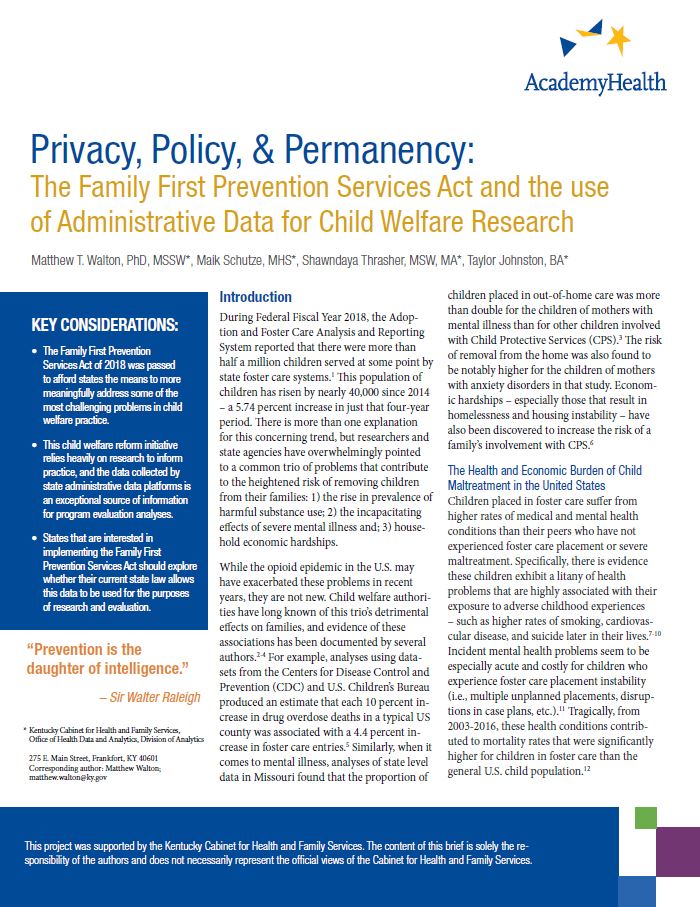 Privacy, Policy, & Permanency: The Family First Prevention Services Act and the use of Administrative Data for Child Welfare Research
This issue brief highlights the policy implications of the Family First Prevention Services Act and outlines considerations for states to leverage their administrative data to improve the quality and timeliness of child welfare program research and evaluation.
Download Publication
The Commonwealth of Kentucky was among the first states in the nation to obtain federal approval from the U.S. Children's Bureau to implement the provisions of the Family First Prevention Services Act, a significant child welfare reform package creating new opportunities for states to offer treatment programs to children and families involved with child welfare agencies. Kentucky was among an even smaller group of early states to receive federal approval of a program evaluation proposal to study the effects of promising interventions to promote family stability and reduce the risk of removing children from their homes. This issue brief describes some of the major provisions of this new child welfare reform effort, and illustrates how administrative data can be utilized to produce new insights from research and evaluation of services for families at risk of placing a child in out of home care. A review of state statutory matters, as well as a discussion of ethical and procedural concerns, are offered.