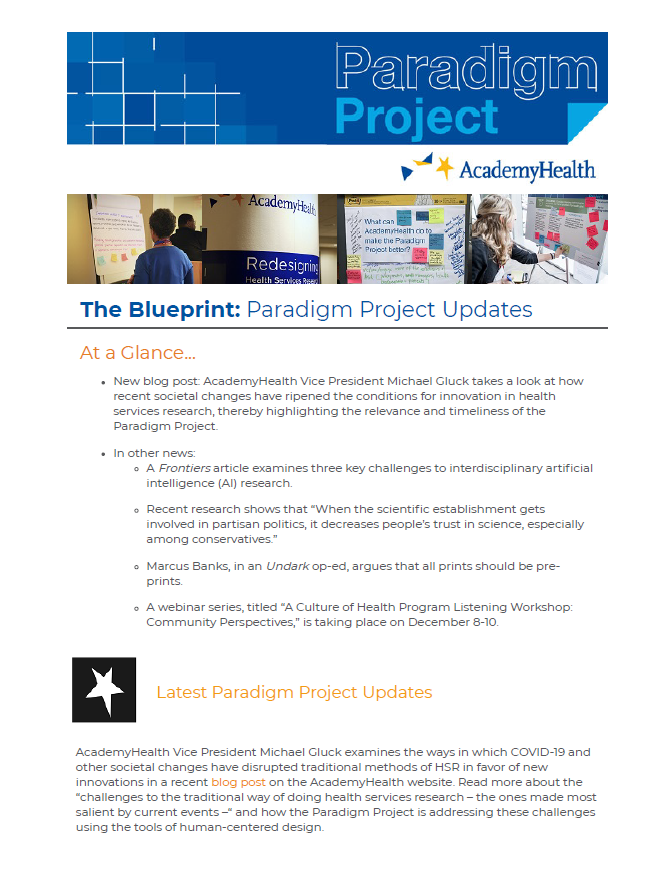 The Blueprint: Paradigm Project Updates
This newsletter includes a reflection by AcademyHealth Vice President Michael Gluck on how the Paradigm Project fits into recent societal changes, and articles about artificial intelligence, preprints, and health communication development.
Download Publication
In a new blog post, AcademyHealth Vice President Michael Gluck reflects on how recent societal changes have ripened the conditions for innovation in health services research, thereby highlighting the relevance and timeliness of the Paradigm Project. 
In other news, the newsletter includes a Frontiers article that examines three key challenges to interdisciplinary artificial intelligence (AI) research. This newsletter also highlights two trends in scientific publishing in 2020: political endorsements and an influx of preprints. On political endorsements, recent research in The Conversation shows that "When the scientific establishment gets involved in partisan politics, it decreases people's trust in science, especially among conservatives." On the influx of preprints, Marcus Banks, in an Undark op-ed, argues that there was a time when pre-publication peer review was the only system that made any sense, but that is no longer the case. Lastly, a webinar series, titled "A Culture of Health Program Listening Workshop: Community Perspectives," is taking place on December 8-10. Find out more in this month's edition of the Blueprint.
Additional information can be found at AcademyHealth.org/ParadigmProject.