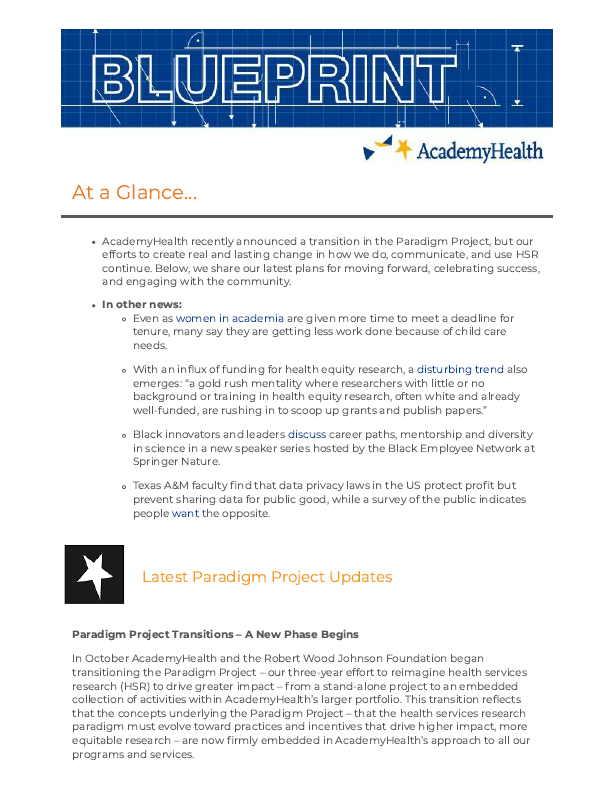 The Blueprint: November 2021
This month's edition of the Blueprint includes a STAT investigation on "health equity tourists," a series on DEI in STEM in the Scientific American, and more.
Download Publication
Paradigm Project Transitions – A New Phase Begins
In October AcademyHealth and the Robert Wood Johnson Foundation began transitioning the Paradigm Project – our three-year effort to reimagine health services research (HSR) to drive greater impact – from a stand-alone project to an embedded collection of activities within AcademyHealth's larger portfolio. This transition reflects that the concepts underlying the Paradigm Project – that the health services research paradigm must evolve toward practices and incentives that drive higher impact, more equitable research – are now firmly embedded in AcademyHealth's approach to all our programs and services.
Although the "project" part of the Paradigm Project is ending, our long-term efforts to create real and lasting change in how we do, communicate, and use HSR continue.
Building on the progress and perspective of the Paradigm Project, innovation in our scientific paradigm requires that we address systemic racism and improve diversity, equity, inclusion, and belonging in the field – and addressing DEI requires innovation in the way we conduct and use science. These two foundational, interconnected principles undergird our strategy for this next phase of work.
Paradigm has established that we can improve the way we do science while preserving all that makes HSR strong and rigorous. Thank you for your participation and support.