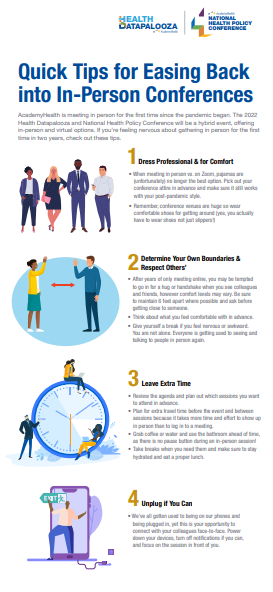 Quick Tips for Easing Back into In-Person Conferences
This publication offers a series of tips for navigating in-person conferences in advance of AcademyHealth's Health Datapalooza and National Health Policy Conference, including tips on participating in the virtual component of the event.
Download Publication
As in-person conferences and events resume in this stage of the COVID-19 pandemic, many of us are eager to get back to seeing friends and colleagues face-to-face. But it's normal to also feel a little out of practice after a few years of only meeting virtually. These tips are designed to help you ease into feeling more comfortable and safer at our next in-person meeting.
Tips include: determining your boundaries, dressing professionally while being comfortable, unplugging from digital distractions, and following COVID-19 vaccine & other safety protocols.
The tip sheet also offers advice for those who opted only to attend the event virtually. Find more tips on creating meaningful virtual connections and presenting virtually on our blog.
Our Health Datapalooza and National Health Policy Conference is also a vaccine-required event. Please see the health & safety section on our website for more information here.