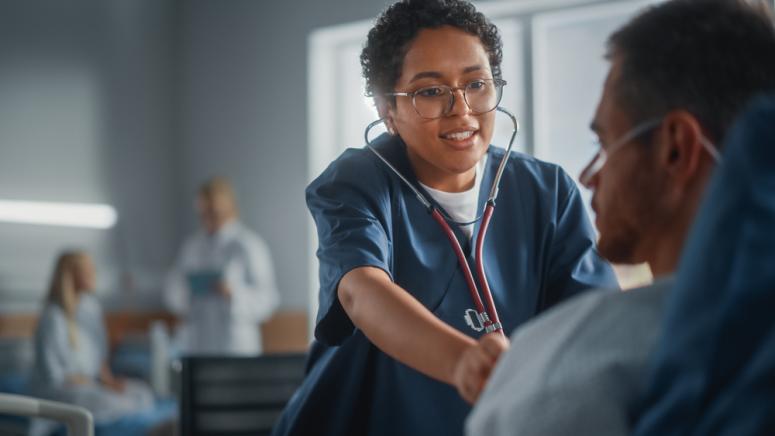 Introduction
Nurses Week, celebrated from May 6 to May 12, recognizes the contributions and sacrifices of nurses worldwide, coinciding this year with the 200th anniversary of Florence Nightingale's birth, who is considered the founder of modern nursing. Nurses represent the largest segment of the health care workforce, with over 4.2 million registered nurses (RNs) in the United States alone, working in various settings, including but not limited to hospitals, clinics, schools, and long-term care facilities. However, retaining nurses has become increasingly challenging, and it is necessary to prioritize recruiting, retaining and valuing the nurses in our health care systems.
In this blog post, we will discuss the nursing shortage and its impact, the importance of valuing nurses in the workplace, and advancing diversity, equity, and inclusion in nursing.
The Nursing Shortage and Its Impact
The United States is currently experiencing a nursing shortage, with, on average, 203,200 openings for RNs projected each year. The aging of the nursing workforce, the COVID-19 pandemic, and the high demand for health care services are among the factors contributing to this shortage. Nurse turnover has a significant impact on patient care and health care costs. When nurses leave, it can lead to a shortage and an inequitable distribution of qualified staff, resulting in longer wait times for patients and increased workloads for remaining nurses. This situation can lead to lower job satisfaction and burnout among nurses, which in turn can negatively impact patient outcomes such as longer hospital stays, medication errors, and higher readmission rates. In addition to the impact on patient care, nurse turnover is also expensive for health care organizations, as it requires hiring and training of new staff. The cost of nurse turnover can be up to twice the nurse's annual salary, making retention strategies essential to minimize these costs. Health care organizations need to implement effective retention strategies to retain nurses in the workforce and address the nursing shortage.
Valuing Nurses in the Workplace
Creating a positive work environment is one of the key retention strategies that health care organizations can implement. The nurse work environment encompasses the organizational features that facilitate professional nursing practice, including strong leadership and management, adequate staffing and resources, good nurse-physician collegial relations, nurse participation in hospital affairs, and nursing foundations for quality of care. In a meta-analysis of data from 22 countries, positive nurse work environments were associated with lower odds of poorer nurse outcomes, patient safety or quality ratings, and patient outcomes.
Other successful retention strategies that health care organizations can implement include offering competitive salaries and benefits, providing opportunities for career growth and professional development, and promoting a healthy work-life balance. By prioritizing nurse retention and creating a positive work environment, health care organizations can improve patient care, reduce costs associated with turnover, and create a more sustainable workforce. It is essential for health care leadership to recognize the ethical obligation to foster a positive work environment that supports nurses and patients. Organizations that participate in the ANCC Magnet Recognition Program exemplify this commitment to nursing excellence, quality care,  and a culture that promotes job satisfaction and lower nurse turnover.
Advancing Diversity, Equity, and Inclusion in Nursing
Advancing diversity, equity, and inclusion (DEI) in nursing is essential for creating a health care system that is inclusive and equitable for all. Structural barriers that prevent nurses from racial and ethnic minority groups from advancing in their careers need to be recognized and addressed by health care organizations. These barriers can include unconscious bias in hiring and promotion practices, lack of diversity in leadership positions, and inadequate support for historically marginalized groups. To promote DEI in nursing, health care organizations should implement policies and programs such as equitable clinical ladders that support nurses from underrepresented groups, provide cultural competency training for all staff, and engage in ongoing DEI efforts. By addressing these issues, health care organizations can create a more diverse and inclusive workforce that leads to better patient outcomes and a more equitable health care system.
As we work towards promoting DEI in nursing, it is crucial to recognize the contributions of Internationally Educated Nurses (IENs) in the U.S. nursing workforce. IENs, who represent less than 6.0 percent of the workforce, migrate to the U.S. from mainly Low and Middle Income Countries (LMICs) such as the Philippines, India, Sub Saharan Africa, and the English Speaking Caribbean. These nurses contribute a significant level of human capital, gender, linguistic, and cultural diversity to the workforce. However, IENs often belong to racial and ethnic minoritized groups and experience racial discrimination and exploitation with unfair contracts. Their added diversity is essential in promoting greater levels of concordance between the nursing workforce and the increasingly diverse population needing care.
Conclusion
Nurses are an essential component of the health care system, and it is imperative to prioritize their retention and value their contributions. Implementing effective retention strategies and creating a positive work environment can improve patient care, reduce costs, and create a more sustainable workforce. Advancing DEI in nursing is critical for creating a more inclusive and equitable health care system, and health care organizations must take action to address the structural barriers that prevent underrepresented nurses from advancing in their careers. By prioritizing these issues, we can create a more diverse, equitable, and effective health care system that benefits everyone.
Blog comments are restricted to AcademyHealth members only. To add comments, please sign-in.