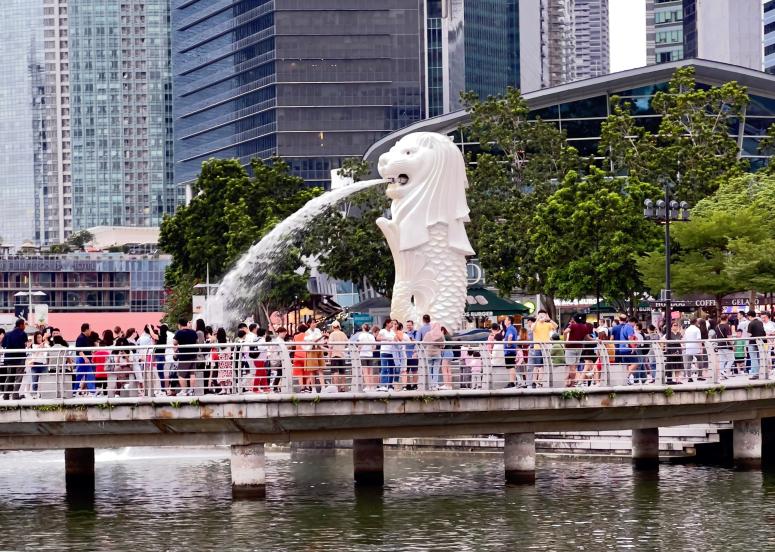 Each nation has a unique history and culture that has informed its health system, and it is from that distinctiveness that the world can provide lessons and ideas for the United States. Of the three countries visited last month as part of the Commonwealth Fund/AcademyHealth health study tour, this was no more evident than in Singapore. An island nation at the southern end of the Malaysian peninsula, Singapore has a population of just under six million people and a land mass slightly smaller than that of New York City. Formed in 1965 after a century and a half of British colonial rule and a few years as part of Malaysia, Singapore has gone from a low-income to highly developed country in a few short decades–the vision of the country's first prime minister, Lee Kuan Yew. Like the United States, it is a racially and religiously diverse society, though with the ethnic Chinese population representing a large 75 percent majority, followed by ethnic Malaysians (14 percent) and Indians (9 percent). More than 1.5 million are non-residents, composed largely of international students and migrant workers.
Singapore's mix of a public and private health system shares some similarities with that of the United States, but the way the system is split looks very different. Eighty percent of primary care is delivered through the private sector, while 80 percent of all acute care and 100 percent of hospital ownership is public. Like almost all countries other than the U.S., Singapore provides universal coverage, but it does so with a strong commitment to personal responsibility and consumer-driven health care. All services include at least some cost-sharing. The centerpiece of the system is a high deductible health plan (MediShield Life) and health savings accounts (MediSave), both mandatory. A public MediFund program ensures a safety net for low-income individuals who cannot otherwise afford the out-of-pocket costs of accessing services, while a private insurance market delivers wrap-around coverage for benefits not covered by MediShield Life. With a sizable high-tech industry, Singapore is increasingly relying on digital health as a source for service delivery innovation.
During our short visit, three features of the Singapore system stood out as particularly relevant for the U.S. to learn from:
Public health credibility: Effective measures taken in response to the SARS outbreak of 2003 provided a

strong foundation

of trust in public health during the COVID-19 pandemic. While Singapore was not immune to the spread of misinformation, the vast majority of the population views the government's response to the pandemic

favorably

.
A

rapidly aging population

: By 2030, one in four Singaporeans will be over the age of 65. The government is laser-focused on mitigating impacts for the health system, including a shortage of health care workers and a declining number of working taxpayers to support retiree needs. Part of the solution has been a reliance on migrant labor, though at the cost of increased inequities: despite their contributions, migrant populations are not eligible for the same benefits bestowed on other Singapore residents. Other key facets of Singapore's aging strategy include value-based payment, community-based services and caregiver support, and an emphasis on personal and family responsibility for social connection, prevention, and other health-promoting behaviors.
Universal

housing with highly centralized planning

: Singapore has addressed a major social determinant of health on a national scale. Its Housing and Development Board is responsible for housing more than 80 percent of Singaporean residents and designing towns and neighborhoods that provide commercial and recreational centers and foster social connection, which is widely recognized as critical to good health. This is a priority especially as the population ages and the government seeks to provide more integrated, home- and community-based care.
At the same time, two challenges heard repeatedly during the study tour, documented in academic literature, and underscored in Healthier SG, Singapore's blueprint for health system transformation, are very familiar to an American ear:
Rising health care costs: Singapore currently spends only five percent of GDP, but costs are rising quickly and per-person expenditures are among the highest in the world. Between 2010-2020, government spending on health care tripled from about $3 billion to $10 billion and is estimated to nearly triple again by 2030.
Integration of primary and specialty care: Singapore is using payment incentives to push family (primary care) doctors to focus on prevention and overall health improvement, while working with specialists as needed to support their patients in managing chronic conditions. Family doctors participating in Healthier SG are required to join a Primary Care Network to facilitate more team-based care and must also participate in a national electronic health records system, which will require IT improvements for many practitioners.
Like the U.S., Singapore has found no magic bullet to address these challenges and continues to experiment with policy solutions.
Singapore's vibrant and complex health system has been praised for its efficiency and effectiveness. In considering the applicability of this experience for the United States, it is important to remember that Singapore is a small country with centralized administration, predictable financing, and strong public health and health care delivery systems. This gives the government a great deal of control over how care is ultimately delivered—something the United States does not have. It is also worth noting that Singapore has an often discussed social compact between its government and citizens. For health care, this translates into a true safety net and affordable care provided by the state, an acceptance by citizens of individual responsibility for their health, and a willingness by individuals to relinquish some autonomy for the greater good—again, tenets we don't have. This compact reflects and reinforces a level of social cohesion in Singapore that is utterly foreign to the U.S., but that perhaps results in greater confidence in government's ability to produce a healthy and prosperous society. In our current ultrapolarized state, maybe we should revisit our own social compact in the United States.
For more about the 2023 study tour, check out this overview as well as AcademyHealth staff observations from New Zealand and Australia.
Blog comments are restricted to AcademyHealth members only. To add comments, please sign-in.