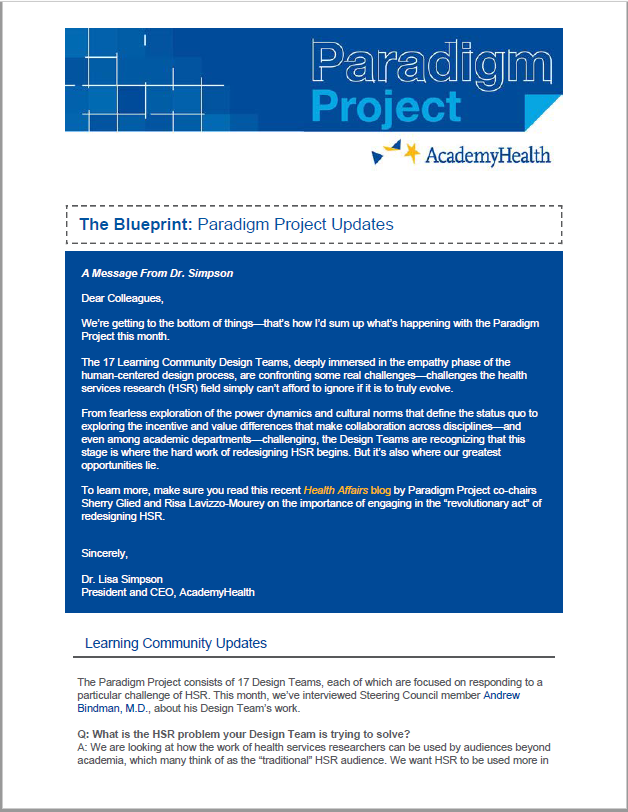 In this newsletter, both a Steering Council and Learning Community member share their perspectives on the project thus far, and we provide the project's first white paper.
Download Publication
Since the October update, Design Teams have further defined the challenges they are grappling with based on the insights from stakeholders who have shared their lived experience in interviews with project members.
Included in this newsletter is a Q&A with Steering Council member, and former director of the Agency for Healthcare Research and Quality (AHRQ), Andy Bindman, M.D., about the work of his Design Team to explore the contributions of health services researchers in settings beyond academia. This update also spotlights Thurka Sangaramoorthy, Ph.D., M.P.H., a cultural anthropologist who is eager to connect the dots between research producers and users, and between health professionals and those who seek care—hopefully leading to "real transformation" in health care systems and beyond.
Finally, this Blueprint features the first white paper released by the Paradigm Project, authored by Susan Guthrie of RAND Europe, about the advantages and disadvantages of several alternatives to peer review for assuring rigor and relevance in HSR.
Additional information can be found at AcademyHealth.org/ParadigmProject.