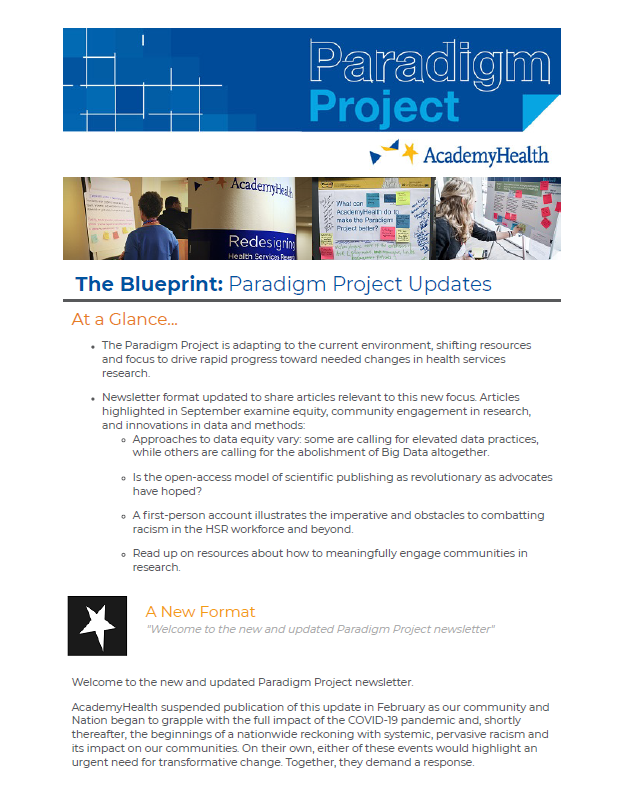 The Blueprint: September Paradigm Project Updates
This newsletter provides a brief update on the Paradigm Project's refocus and highlights articles relating to six challenges driving paradigm shifts in health services research.
Download Publication
The Paradigm Project recently refocused efforts to reflect the evolving challenges facing the field of HSR as highlighted by the COVID-19 pandemic and the nationwide reckoning with systemic, pervasive racism. We are emphasizing the work of four Design Teams, and an additional group of three Design Teams that are focused on various aspects of community participation in the research process. 
September's issue includes a podcast episode with the founder of Data for Black Lives, a guidebook on engaging communities in research by Chicago Beyond, and a moving account of experiences with anti-Black racism in academia. 
Going forward, AcademyHealth will use this newsletter to share updates on these projects and on other initiatives that are relevant to the aims of the Paradigm Project. As such, you'll find articles and information on ways HSR can address the six challenges outlined by the Paradigm Project. 
Additional information can be found at AcademyHealth.org/ParadigmProject.