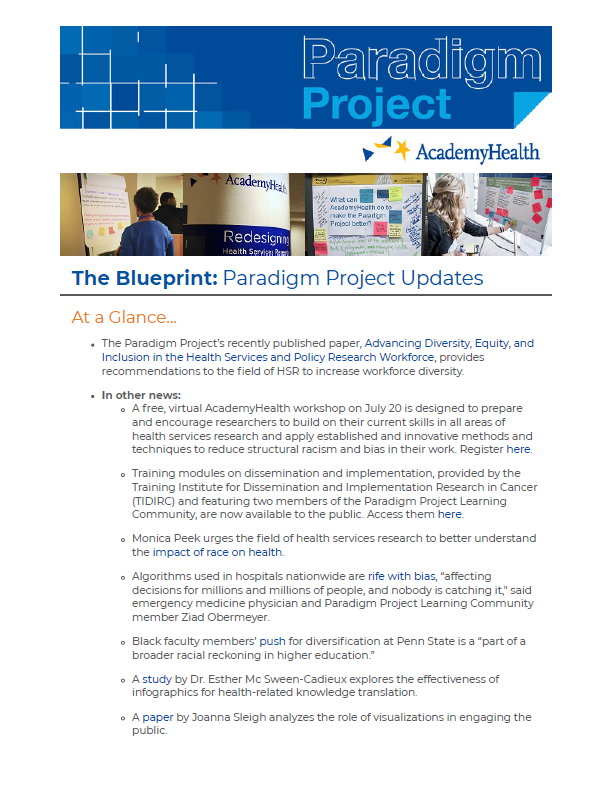 The Blueprint: Paradigm Project Updates
July's edition of the Blueprint includes commentary on algorithms that are rife with bias, articles on science communication, and upcoming webinars.
Download Publication
In a new Paradigm Project Horizon Scan, Advancing Diversity, Equity, and Inclusion in the Health Services and Policy Research Workforce, Drs. Ángela Gutiérrez and Krystle Palma Cobian explore four strategies to increase workforce diversity:
Systemic efforts to enhance career development and training, recruitment and retention of diverse researchers.

Cluster hiring to increase retention, enhance socialization, and reduce isolation

Career mentorship; and

Equitable community-based participatory research partnerships.
Applying lessons from case studies, the authors provide four recommendations to increase workforce diversity in health services research:
Implement multi-pronged strategies that target barriers to entry into the field for a diverse set of applicants at the individual, community, state, and federal levels.

Focus hiring strategies at all levels—not just entry-level positions.

Raise awareness of the health services and policy research field to a younger, more diverse generation of students.

Track progress toward DEI goals.
Additional information can be found at AcademyHealth.org/ParadigmProject.