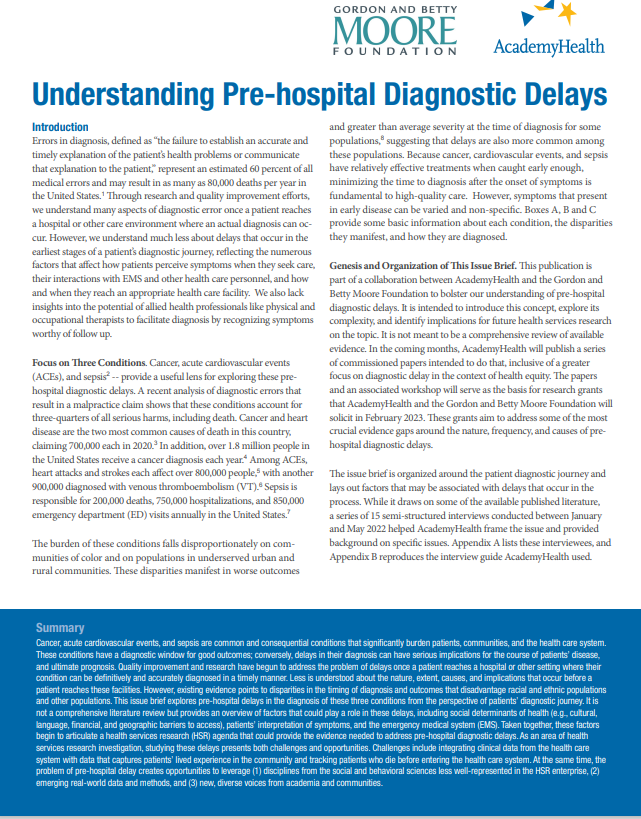 Understanding Pre-hospital Diagnostic Delays
AcademyHealth surveyed the nature and causes of pre-hospital delays in cancer, sepsis, and acute cardiovascular event diagnoses.
Download Publication
Cancer, acute cardiovascular events, and sepsis are common and consequential conditions that significantly burden patients, communities, and the health care system. These conditions have a diagnostic window for good outcomes, and delays in their diagnosis can have serious implications for the course of patients' disease, and ultimate prognosis. Quality improvement and research have begun to address the problem of delays once a patient reaches a hospital or other setting where their condition can be definitively and accurately diagnosed in a timely manner. There is also evidence of disparities in the timing of diagnosis and outcomes that disadvantage racial and ethnic populations and other populations. Less is understood about the nature, extent, causes, and implications that occur before a patient reaches these facilities to receive an accurate diagnosis.
This AcademyHealth issue brief explores pre-hospital delays in the diagnosis of these three conditions from the perspective of patients' diagnostic journeys. It also provides an overview of factors that could play a role in delays including:
Social determinants of health

Patients' interpretation of symptoms

Emergency medical system (EMS).
As an area of health services research investigation, studying these delays presents both challenges and opportunities. Challenges include integrating clinical data from the health care system with data that captures patients' lived experience and tracking patients who die before entering the health care system. At the same time, the problem of pre-hospital delay creates opportunities to leverage (1) disciplines from the social and behavioral sciences less well-represented in the HSR enterprise, (2) emerging real-world data and methods, and (3) new, diverse voices from academia and communities.