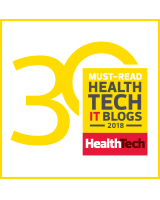 The AcademyHealth blog was recently included in HealthTech Magazine's 2018 Must-Read Health IT Blogger List. HealthTech explores technology and health care issues — and shares success stories — relevant to IT leaders and managers at health care and senior care organizations evaluating and implementing solutions. We are pleased to be included among other health data champions as a resource and aim to continue to share relevant and timely content about the role of data in improving health and health care!
In celebration, we took a look back at the top 5 most viewed AcademyHealth data themed blogs, see below a list of our most popular blogs of 2018 (so far):
View the full list of HealthTech's 2018 Must-Read Health IT Blogger List here.
Blog comments are restricted to AcademyHealth members only. To add comments, please sign-in.